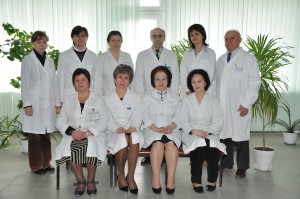 The Department of Endocrinology was founded in fall of 1977.
Heads of the Department:
from 1977 to 2009 – Zinaida Anestiadi, professor, DM
since 2009 – Lorina Vudu, university lecturer, doctor of medicine.
First lecturers of the department were V. Rusnac, N.Migăli, L. Alexeev, L. Gavriliuc – graduates of the all-Union Moscow Institute of Endocrinology. Later a number of lecturers were recruted to work in the department: L. Zota and Ch. Dimitriev (1979), T. Tudose (1987), Gh. Caradja (1989), L. Vudu (1993), Z. Alexa (2008), D. Harea (2009).
In 1987 the Endocrinology Department merged with the Department of Internal Medicine of Faculty of Pediatrics and became the Department of Internal Medicine and Endocrinology of Faculty of Pediatrics.
In 1993 the Endocrinology Department was restored to the original status under the name: Endocrinology Department of USMF "Nicolae Testemiţanu".
The main of the department activities are teaching, scientific research and treating patients. Endocrinology is included in the curriculum for fifth-year students of the Faculty of Medicine, and since 2008 for fourth-year students Department of Preventive Medicine.
The department is engaged in postgraduate training in residency in specialties: "Family Medicine", "Internal Medicine", "Pediatrcs", "Morphopathology", "Psychiatry", "Cardiology", "Dermatology", and clinical internship in Endocrinology and Pediatric Endocrinology Specialty. In 2009 the course of continuing training in Endocrinology was resumed.
From teaching materials published by the department staff: manual on Endocrinology, (translated from Russian), in 1997; Endocrinology (course of lectures in English), in 2003; Endocrinology (course of lectures in Romanian), in 2004. Members of the department published 15 guidelines for resident doctors and students. A grate number of articles in national and international scientific journals have been published, eight patents have been registered.
The clinical Basis of the department: Republican Clinical Hospital, Department of Endocrinology, Department of Endocrinology Children's Hospital "Em. Coțaga" with a total of 90 beds, Department of Endocrinology of IMSP Clinical Municipal Hospital "Sf. Treime".
At the department 14 doctoral thesis and 2 PhD theses have been written and defended.
In 2010 Endocrinology Laboratory was founded, the main scientific directions of its activity is genesis of autoimmune endocrine pathologies.